LIVE URP CONCERT FOR THE BOWEL MOVEMENT OF GLOBAL WARMING
STARRING AL GORE & A HOLE BRUNCH OF ARTISTS DESPERATE TO SELL RECORDS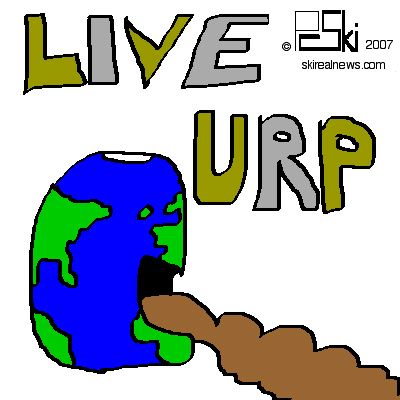 THE LATEST MEDIA FADDISH GLOBAL CONCERT FOR A CAUSE
CREATED MORE POLLUTION THAN SAVED, AND THE STARS OF THE EVENT
CAUSE ABOVE AVERAGE POLLUTION THROUGH THEIR OWN DAILY LIVES OF CELEBRITY PAMPERISM.

AL GORE BECAME THE POPULUS JUNK SCIENCE GURU WITH HIS MISSION
TO RID THE WORLD OF GLOBAL WARMING. MORE MONEY IS NOW SPENT STUDYING
GLOBAL WARMING THAN CANCER RESEARCH. GLOBAL WARMING IS AN UNPROVEN
CLAIM BY ACADEMICS IN SEARCH OF BILLIONS OF DOLLARS IN FEDERAL GRANT MONEY.

DURING THE BROADCAST, WASHED UP ARTISTS AND SINGERS CAME TO THE STAGE
TO HAWK GREATEST HITS ALBUMS; OTHERS LAMENTED AT THE LACK OF TALENT OF
THE NEWER, HIPPER BANDS; AND NO MESSAGE OTHER THAN BUY MY ALBUM WAS
MADE DURING THE CABLE TELEVISION STATURIZATION PROGRAM.
ONE LADY INTERVIEWED SAID THAT WE SHOULD USE ONE LESS NAPKIN A DAY
WOULD SAVE A BILLION TONS OF LANDFILL A YEAR. HUH?
THE CELEBRUTANTS WANT US REGULAR FOLK TO WIPE OF MOUTHS ON OUR SHIRT SLEEVES
WHILE THEY WHISPER IN THEIR LIMOS OF HOW SAVAGE THE COMMON MAN IS.

THE SINGERS KEPT ON SAYING S.O.S.
IT WAS CODE TO GET ME OUT OF THIS DREADFUL MESS.
S.O.S. WAS REALLY --- SAVE OUR SANITY BY NOT LISTENING TO THESE PEOPLE ON STAGE.
IN TYPICAL ALLEGED CHARITY FASHION, THE CELEBRITIES AND AL GORE LEFT THE STAGE,
BOARDED THEIR SUVS, AND HEADED HOME ON THEIR CHARTERED JETS TO LEAVE THE
ACTUAL CLEAN-UP TO THE MINIMUM WAGE LABORERS AT EACH VENUE.
©2007 Pindermedia.com, inc
skirealnews.com