Point-CounterPoint
CLINTON v. DOLE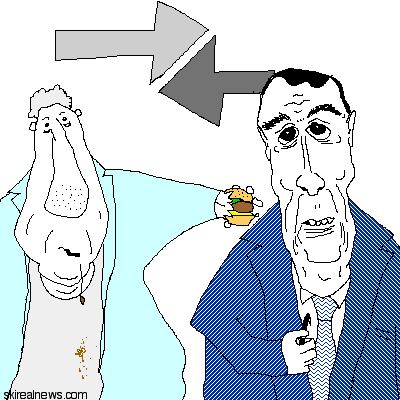 I WAS THE PRESIDENT OF THE FREE WORLD.
BOB DOLE WANTED TO BE PRESIDENT OF THE FREE WORLD
I LOVE GETTING FREE STUFF.
BOB DOLE BECAME A MILLIONAIRE IN PUBLIC SERVICE.
I LOVE THE MILLION THEY ARE PAYING ME.
BOB DOLE IS UPSET THAT HE DOESN'T GET AS MUCH.
I LOVE GETTING AS MUCH ATTENTION AS I DO.
BOB DOLE SHOULD HAVE SLUNG MORE MUD IN THE CAMPAIGN.
I SHOULD HAVE BURNED THAT BLUE DRESS.
BOB DOLE GETS THE BLUES WHEN HE THINKS OF WHAT IT COULD HAVE BEEN.
I GET BLUE EVERY TIME I GO TO A FASHION SHOW.
I CAN SHOW YOU MY WAR WOUNDS IN SERVICE OF THIS NATION.
I CAN SHOW YOU WHERE I HUNG OUT DURING THE WAR.
I WAS PROUD TO HAVE ENLISTED.
I WAS PROUD THAT I ENHALED.
I MUST HAVE BEEN HIGH TO AGREE TO DO THIS PROGRAM.
YOU WANNA GET HIGH AFTER THE PROGRAM?
BOB DOLE DOES NOT USE DRUGS EXCEPT VIAGRA.
ALL MY PARTS ARE STILL WORKING..... OVERTIME.
BOB DOLE FEELS FINE BECAUSE AT NIGHT HE GETS TO GO HOME TO LIZZY
WHILE YOU HAVE TO GO HOME TO HILLARY.
YOU INTO WIFE SWAPPING?
©2003 The Real News @ skirealnews.com
Distributed by pindermedia.com, inc.
All Rights Reserved