There has been great mention by the Democratic candidates of the proposition of the dreaded three a.m. wake-up call for some national crisis. In Illinois, a 4.7 earthquake awoke many startled residents recently. Most thought the aftershocks of nature were attributable to the fault lines in Southern Illinois. But it may have been a metaphor for the earth-shattering shift in the public perception of the Democrats golden child, Barrack Obama. For years, the public has been spoon fed what Obama himself said about himself as being the one and only truth about himself. No one dared to even ask who was this man who wants to be President so badly that he would embarrass himself in a blue collar bowling alley in a feeble attempt to gain a few rural votes in a primary.
Obama portrays himself as a different politician. But he is not different; he is an Illinois politician from the same political machinery that has elected a majority of Democrats into the statehouse, judgeships, board memberships and his Senate seat. This is the same political machinery that has one former governor, a Republican, sitting in federal jail on a corruption conviction, while the current governor, a Democrat, has been implicated in government corruption schemes in a pending federal criminal trial. The seedy aspect of Illinois politics is so generational that the Land of Lincoln has institutionalized it as a way of doing public business. Newspaper columnist Mike Royko coined the word "clout" to describe the system.
The tremor felt in Illinois recently may have been Obama's handlers falling out of their beds because the nightmare. The nightmare that has inhabited the campaign from within its own ranks: Obama's pastor.
There is a new game being played in the press this election season. It is called denouncing or backing away from non-politically correct or morally offensive statements or actions from people associated with a candidate. John McCain has distanced himself from several pastors who was associated with during his nomination process. Hillary Clinton has had to distance herself from some of the Bill Clinton administration cronies. But Obama tried to play the game differently when it came to his controversial pastor, Rev. Wright.
Character is fair game when judging a candidate for public office. The people who are the associates of a candidate is evidence of such character traits; you can tell someone's character by the company he keeps. In Obama's case, he decries it as being guilt by association. This may be an argument of syntax only.
Rev. Wright is a high octane, ultra-liberal, anti-government black preacher from Chicago. Obama has been a member of Wright's church for twenty years. He was married by Rev. Wright; he goes to mass; he has heard his sermons; he had his children baptized there. Obama completely associated his religious and moral tenets to Wright's church. When Wright calls the US government terrorists who deserved the 9/11 attacks or when he claims the US government made the HIV virus to kill off the black population in America, those are shocking political statements. The shocking part that he has been making those statements for years in his fiery sermons. It was only when a video tape of Wright's rhetoric hit the Internet, did the rest of America get the first uncensored glimpse into Obama's life.
One must realize that Wright's church was the most important institution in black Chicago if you wanted to move up the social-political ladder to the upper black middle class. Obama came to Chicago, recruited to the city by Tony Rezko (the man on trial for political corruption), and who connected himself with politically connected people to further the fast track to elected office. The connections he made through the church and the social-political black Democrats in the city resulted in Obama breezing into a state legislator's chair and then to the US Senate unopposed.
In order to address the Wright situation, Obama gave his Philadelphia speech as an oratory on race relations in America. Many were taken back by the great oratory delivery, while others were taken aback by the lack of insight. Obama never had the deep rooted Southern black discrimination experience that civil rights leaders like Martin Luther King exposed to the nation. Obama was raised in a mixed middle class family in Hawaii and overseas. So he lacked the "civil rights street cred" of a traditional black Democrat. That is why his church affiliation with Rev. Wright was so important to his political career. It gave him a piece of the history he was personally missing from his resume.
Obama then failed to fully denounce Wright's comments. He said he never heard those words before, but most critics found that comment a lame excuse. Obama then said he did not share the same beliefs of Rev. Wright; that Wright's comments were wrong. But then Obama defended his pastor as a member of his family. He concluded that he could not disown his pastor as he could not disown is alleged semi-racist white grandmother. Most of middle America was shocked that Obama threw his own grandmother under the bus in order to make a minor political point. But America still does not know the true candidate; in Illinois politics, you do anything to win.
Obama had hoped that the Wright situation would go away quietly. But it played out in concert with his condensing remarks about rural America's clinging to religion and guns because of their own economic plight. A person's employment or economic status has nothing to do with religious beliefs or support of the constitutional right to bear arms. It was a statement that fueled the notion that Obama was an aloof, elitist and arrogant liberal-socialist who had little regard to other's beliefs or individual rights. These were the first dents in Obama's untarnished armor image. He went on to lose the Pennsylvania primary by ten percentage points to Clinton.
Obama still had hoped that after the Quaker State defeat, the campaign would go back to normal: his standard dry stump speech and national media admiration of his presence or popularity. But Rev. Wright put himself front and center.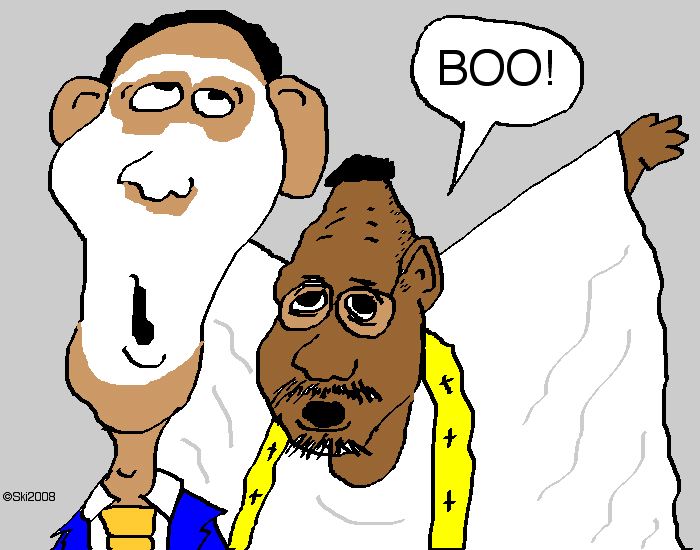 Rev. Wright went a sympathetic ear of Bill Moyers. In a PBS special report, Wright claimed that America had taken short sound bites of his sermons out of context. That Obama's opponents were attempting to use him to unfairly politically attack Obama. Wright said that he was an American, patriotic, and that the rest of America had no idea what black churches are about. America could not judge his sermons because they were not party to them.
Finally, Obama's handlers could breathe easy. The news circle had closed: Wright's videos, Obama's distancing himself, and Wright's PBS interview would close the door on any further traction of the story in the general media. The press would soon have to go on to the next issue, the next superdelegate announcement and the next primaries in Guam, Indiana and North Carolina. The Wright incident would pass into the history books as a minor footnote.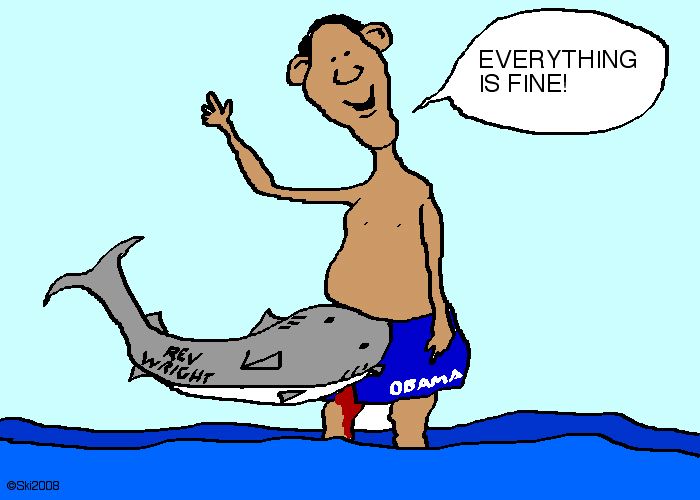 It may have been a closed case but someone forgot to tell one of the principals.
Rev. Wright went to the NAACP convention in Detroit to make a key note address. On live television, unedited, he ramped up his sermons into a diatribe against America. Even Obama's strongest defenders were dumbfounded by the speech. There was not even enough time to digest the ramifications of the full metal Rev. Wright when Wright then addressed the National Press Club. In that speech and press exchange, Wright confirmed all of his crazy remarks against the US government causing AIDS and being a terrorist organization throughout the world. It was like a small nuclear device had just been detonated at the Obama HQ. Rev. Wright's positions were so outside the mainstream that they were toxic.
Obama had to "CHANGE" gears. He was the candidate of Change, but in reality he was nothing more than a traditional, Chicago machine politician. His pastor was upset that Obama never defended him when he had the chance. His pastor put himself ahead of the political aspirations of own of his own flock. It was a vicious double cross; Obama used the church to bolster his early political career and standing in the black community, only to have the same church leader destroy his credibility.
Obama went to the podium and claimed that he had never heard those Wright remarks before, and that he denounced his preachings. At this point, in a matter of short weeks, after decades of being around Rev. Wright, to come to that realization sounded more than hollow. It was a shallow political exercise cutting off a gangrenous limb in order to keep the trek to elected office going forward. Obama, the true candidate, the empty suit, the void record, the lack of accomplishments, the associations he kept while climbing the social-political ladder, were all now fair game. Cynics were vindicated; defenders ashamed. The Democrat's "perfect candidate" had changed back into a political hack toad at midnight.
---